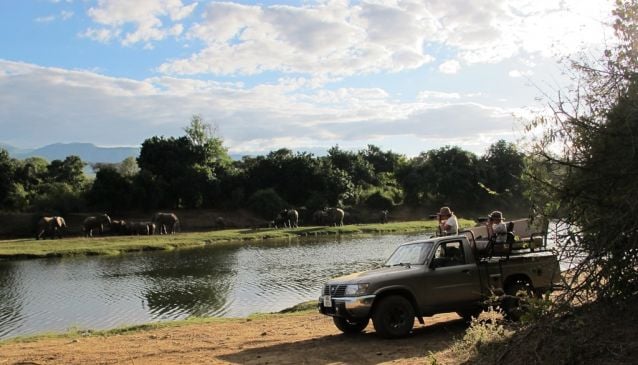 What to Pack for a Safari in Zambia
Editorial
Most important, bring your sense of humour and sense of adventure.
Hours have been spent planning and researching your exciting holiday, or you woke up this morning and decided you need some adventure and stuck a pin in a map! But, whichever way you plan your trip, here is some advice on what you need when visiting Zambia, and most other places in Africa, but Zambia is rather awesome!
Before you do anything, photocopy your documents, tickets, passport, bookings, and put the copies somewhere safe or ask a friend to look after them for you back at home. Take a photo or scan everything and email the photo to yourself.
Clothing: Hot, hot, hot in summer so keep it light and cool and don't forget your swimming costume. Winter mornings and evenings can be chilly, especially on a game drive, so a warm jacket or fleece is a good idea. Layering is the best, as it warms up you can remove items and remain comfortable.
During the rainy season, November to March, a raincoat could come in handy although in a tropical storm you may as well just whip out your shampoo and get wet. The torrential downpours usually don't last too long and they can be quite exhilarating to be caught in. Most lodges do provide rain poncho's which work quite well.
On safari, especially a walking safari, it is better to wear bush colours and no bright outfits. Closed, comfortable shoes for walking, practical sandals for the rest, and an easy pack sun hat.
You should also consider a sensible outfit should you need to visit an official department or office. Short shorts and skimpy tops are not permitted and it is a good idea not to push that one.
First Aid: Zambia is not a scary place caught in the dark ages of ancient medicinal practices and dodgy cures for all manner of ailments. When you think about it, the doctors here have probably seen lesser known nasties and coped with more than your average GP in "civilisation". The smaller towns do have chemists selling the basics – analgesics, anti-histamine etc but they are probably from less than reputable sources with questionable quality control. That saying, if that pain killer is more chalk than paracetamol and it works ….. The major cities have very good pharmacies with well qualified pharmacists and drugs from good sources so, unless you are on regular prescription medication, you will be able to buy everything you require should the need arise. With this in mind, move calmly and quietly away from the paramedic size first aid kit and pack the following:
Sunscreen – let's be sensible, nothing spoils a holiday more than lying in a darkened room glowing and throbbing and then returning home flaking like a plane tree! Zambia in winter has the most glorious clear skies and mild temperatures but you can still get sunburnt. The summer sun is all you can imagine and sunscreen advised.
Anti-histamine (tablets and lotion) – the sad reality of the bush is there are bugs and beasties and a cursed few are more attractive than others to said bugs. Some react more spectacularly and a hot, sore, swollen tsetse bite can be most unpleasant.
Insect repellent – some work, some don't. Honestly, a select group of unfortunate people will be bitten wearing anything except possibly 100% Deet. For the lucky ones, a quick slather of chamomile will keep everything at bay, especially if their unlucky friend has neglected to apply their weapons grade chemicals. From my highly unscientific research, the attractive are often also the most reactive!
Anti-bacterial lotion or wipes – there are times when you just feel you need to just give your hands a bit of a clean.
Plasters and painkillers, just to be safe.
Most important MALARIA PROPHYLAXIS! I am no doctor but please do your research on this one and do note that there are negative reports on Lariam. If you do feel ill when you get back home tell the doctor that you have been to a malarial area and, if they cannot do a rapid malaria test, start the treatment before waiting days or weeks for test results. Malaria is a killer. Don't let this put you off visiting though, just take precautions.
Electronics and other fancy stuff:
Phone and tablet and a charger and powerbank.
A torch and/or a headlamp.
Your camera and extra batteries for your camera – if there are no pictures, it didn't happen!
The cell phone coverage is creeping out from the main cities and more and more remote areas now have signal. This is great for the people who live there but please, show consideration for your fellow travellers and avoid that booming conversation on the pool deck while the wildlife are visiting the waterhole below. Hundreds of "Look where I am" sundowner selfies on Facebook may be great to make your friends in less fortunate situations feel envious, but the other guests may not see the amusing side. Local sim cards are not expensive, much cheaper than drastic roaming costs.
Other than that, bring your sense of humour and sense of adventure. It is very rare indeed to meet someone who does not find something special about Zambia, a country that gets under your skin, a combination of the welcoming smiles of the people, the spectacular scenery and the wonderful wildlife.
This really is the Real Africa!
For more information about plugs, voltage etc visit the Practical Information Page