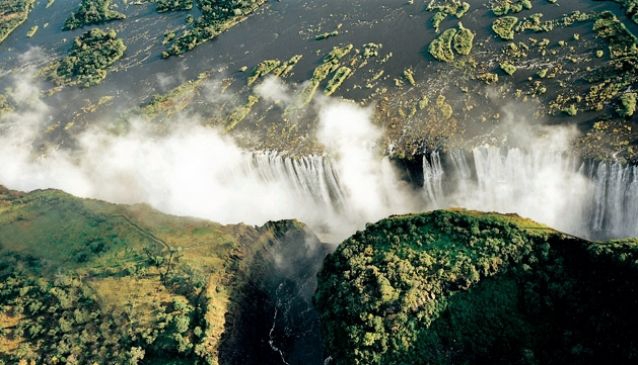 Travel Thrills at Victoria Falls
Adventure
The adrenalin capital of Africa - so much to do, so little time!
Victoria Falls, 'The Smoke that Thunders', is one of the most popular tourist destinations in Africa—and with good reason. Seeing the water cascading down with incredible force leaves any spectator speechless. It is no wonder that it is considered an iconic destination.
However, it is not only the beauty of the waterfall that lures tourists to visit the location. The numerous activities on offer in and around Victoria Falls provide a huge incentive as well. Both travellers who favour adrenalin-packed adventures and those who enjoy relaxing activities are catered for.
Below are five fun things to do in and around the mighty waterfall.
Swim in the Devil's Pool
Having a dip in a rock pool at the edge of the world's largest waterfall is an experience not easily forgotten. A swim in the Devil's Pool can only be enjoyed on the Zambian side of the falls and is only possible when the water levels are low enough to ensure safety. Tongabezi Safari Lodge organizes trips to Devil's Pool, where you can hop into the rock pool and observe Victoria Falls up close.
White Water Rafting
Another activity that is guaranteed to make your blood rush through your veins is white water rafting down the majestic Zambezi River. Jump on a raft and hold on tight or choose to paddle whilst rushing downstream with the wind blowing and the water splashing – this is pure travel thrill.
Micro Light Over Victoria Falls
If you really want to appreciate the destination in all its glory and splendour you should consider witnessing the beauty of Victoria Falls from the air. A Micro light flight will take you over the gorge to give you a sight of the waterfall from a bird's perspective. Flying over one of the most grandiose attractions ever created by nature on earth is certainly a captivating experience.
Bungee Jump
The Devil's Pool swim and Zambezi rafting may be extreme sports, but if a bungee jump off the Victoria Falls Bridge will not make your adrenalin spike, nothing will. The activity is certainly not for the faint hearted. But if you have the courage to take a plunge down the waterfall, you may experience possibly the most thrilling moment of your life.
Zambezi Canoeing
It is not all about adrenalin and action when it comes to participating in activities near Victoria Falls. Those who think relaxation is the name of the game will enjoy drifting down the Zambezi River on a canoe whilst listening to the birds chirp and admiring the abundant wildlife on the riverbanks and in the water. Paddlers are often lucky enough to spot grunting hippos in the water and graceful antelope stretching their legs on the banks.