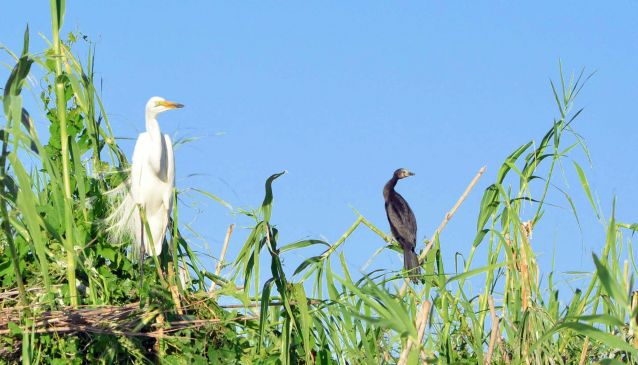 Birding in Zambia
Adventure
Zambia, one of the most important countries in Africa for birds!
I must confess I am not much of a birding enthusiast but I have gradually absorbed a minute amount of knowledge from traveling around Zambia with wonderful friends who are always, well almost always, willing to try and drum a tiny bit more information into my reluctant brain. What I have grasped is that Zambia is a very special birders paradise with over 750 bird species recorded over many diverse habitats.
Sightings that will get your avid bird watching friends booking their ticket to Zambia, and therefore the ones you have to tell them about, include:
The Zambian Barbet (formerly the Chaplin's Barbet) is the only true endemic bird in Zambia but the Black-Cheeked Lovebird is near-endemic, there are very few recorded sightings of this bird outside Zambia. Other "specials" include: African Pitta, Pel's Fishing Owl and Shoebill Stork. According to the experts, these birds can be spotted elsewhere but you have a pretty good chance of spotting them in Zambia, especially with a specialist Bird Guide with good local knowledge
The best places to whip out your check list are probably the national parks. Lochinvar is soggy but spectacular in the wet season when all the migrants arrive from the north, as is Kasanka and the Bengwelu Swamps, home to plains birds and waterfowl, not forgetting the rare and rather prehistoric looking Shoebill.
Kafue National Park is one of the few places to go for the very pretty Zambian Barbet, white with bright red feathers around its eyes this is a threatened species due to habitat destruction. The KNP is also a great place to see the Black-Cheeked Lovebird, a beautifully vibrant bright green lovebird with black cheeks.
Most of the lodges in South Luangwa, Lower Zambezi and Kafue National Park have expert guides with a passion for birds so be sure to request a bird specialist on or before your arrival and you will be entertained and informed and, unless you are a major bird boffin, you will almost definitely learn something new. A selection of safari companies offer specialist Bird Safaris, some tailored to your requirements, some with set departure dates.
It goes without saying that species are dependant on habitat and season but the wet season, November to February, is a time of abundant birds nesting and breeding. Their plumage is the most spectacular and the mating rituals entertaining. Price is the advantage here, this is the "low" season for game viewing so many lodges, if they are open, will have Emerald Season specials.
For specific information about Zambian Birds BirdWatch Zambia is the website of the Zambian Ornithological Society and provides information about important bird areas and bird studies as well as a link to download the most recent checklists by Country or National Parks and Important Bird Areas.
Whatever you level of birding knowledge you are guaranteed to have a "wow" moment or two so arm yourself with a decent pair of binoculars and a good bird book and enjoy yourself.
I recommend Birds of Africa South of the Sahara: A Comprehensive Illustrated Field Guide by Ian Sinclair and Peter Ryan. My second choice is Sasol Birds of Southern Africa by Ian Sinclair, Phil Hockey, Warwick Tarboton and Peter Ryan, another good book, although it only covers Southern Africa and stops at the Zambezi, but it is also available as a nifty app for your tablet or phone. The app includes bird calls which can be helpful in identifying birds, and solving heated debates - as long as they can be found south of the Zambezi!
On my "possibly one day" list I have The Southern African Birdfinder: Where to Find 1,400 Bird Species in Southern Africa and Madagascar by Callan Cohen, Claire Spottiswoode and Jonathan Roussouw. All books are all available from Amazon.